Outlook IMAP Setup
Add your Email Account to Outlook:
Please Note: These instructions will only synchronize email to Outlook, not calendars and contacts. To use all features of your zMail Account including calendar, contact, and shared folder sync, please see the following page: https://www.bedinger.com/email-support-outlook-connector/
To start, open Outlook and go to File > Info > Account Settings > Email account tab > New Account and select Internet E-mail as the account type.
Then select Manual Setup or Additional Server Types.
Enter Your account settings:
Enter your full name Title Case
Enter Your Email address, all lowercase.
Select IMAP as Account Type (this will map your inbox, sent, and other folders to Outlook from the server)
Enter your Incoming and Outgoing servers: zmail.bedinger.com
Enter your email address (all lowercase)
Enter your password (case sensitive)
Check Remember Password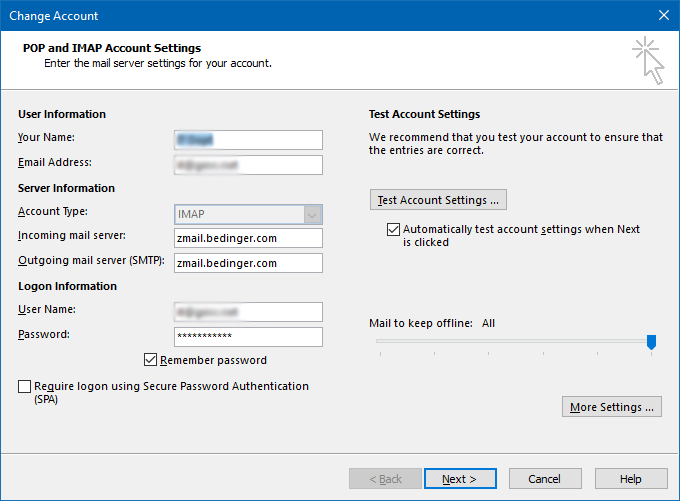 Under Outgoing Mail Server Tab:
Check My Outgoing (SMTP) Server Requires Authentication. Select 'Use same settings as my incoming server'.
Under the Advanced Tab:
Enter the following Ports and Encrypted connection settings. Outgoing use either port 25 or 587. Some ISPs block port 25.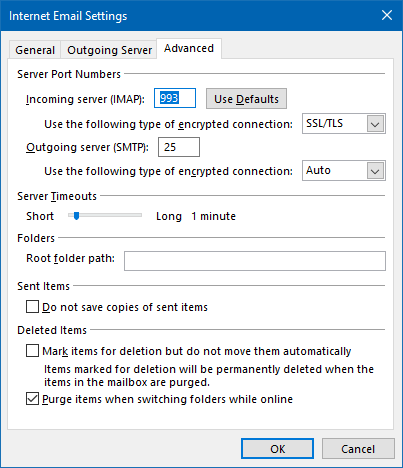 Test your settings and you should be all set up. If you receive an error double check your spelling of the mail servers, email account and password. This is where 90% of the setup issues occur.